Mission: Our mission is to achieve a global system change in education introducing Social and Emotional learning as a compulsory new subject on national curricula around the world.
Vision: Our vision is a safe, free and equal world.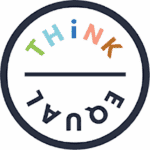 THINK EQUAL is a global not-for-profit charity. Our mission is to teach all children that all humans are equal and equally to be valued. We want to eliminate discrimination, disrespect, and violence from the next generation, and bring empathy, well-being, loving relationships, pro-social behaviours and attitudes in their place.
Parents reported that after using the Think Equal Curriculum, their children:
Could communicate calmly during conflict,
Were more confident,
Tried new things,
Took responsibility in problem solving and inclusion,
Showed more respect,
Could Identify turbulent feelings,
Showed greater care for each other.
"I hope you will give yourself fully to this remarkable program, and if you do, I have absolutely no doubt that you too will be seeing evidence of profound changes for the better in your children."
Leslee Udwin – Founder and Executive Chair of Think Equal
Compassion Rising/Think Equal Program Bundles
Childcare/Pre-school Curriculum Program
(Only 1 level included)
Think Equal Childcare/Preschool Program, Curricular (valued at $290 per level) Each Level contains:
30 week Guided Empathy-based Curriculum
Online teacher training program (4 hours)
A booklet with 90 lesson plans
A booklet with 50+ best practice resources all created by world-leading experts in the fields of education, neuroscience, psychology and human rights
22-24 narrative picture books (hard copies)
2. Compassion Rising Membership (valued at $199):
First month free
1 hour session with Founder Tricia Shields to go over any questions or details regarding program
Access to:

Our Compassion Expert panel
"Compassion based diet" Guidance and Resources
Children's Yoga and Meditation teachings
Eco-Conscious Living Guidance and Resources 
Mindfulness Support
Our Compassion Network of like minded families and Childcare Providers
Weekly live group sessions with Founder, Tricia Shields
Monthly live Masterminds with an Expert from our panel.
Discounts to Expert Services and/or Products
3. Free copy of Tricia Shields book (upon release) "Compassion Revolution".
1. Think Equal Family Program, EQlicous (Valued at $69):
16 week online program for families to work through at their own pace
A collection of stories, activities and videos including art based creations, interactive games, playful songs,and prompts for meaningful conversations:

12 pdf stories
12 animations
60 activities
With narrations from amazing artists like Emma Thompson, Stephen Fry and so many more!
2. Compassion Rising Membership (valued at $199)
1 free month of membership
1 hour session with Founder Tricia Shields to go over any questions or details regarding program
Access to:

Our Compassion Expert panel
"Compassion based diet" Guidance and Resources
Children's Yoga and Meditation teachings
Eco-Conscious Living Guidance and Resources 
Mindfulness Support
Our Compassion Network of like minded families and Childcare Providers
Weekly live group sessions with Founder, Tricia Shields
Monthly live Masterminds with an Expert from our panel.
Discounts to Expert Services and/or Products
3. Free copy of Tricia Shields book (upon release) "Compassion Revolution"